by Matt Castro
Don't Let Uncle Joe Teach You to Ride!
No matter how cool he looks.
But you want to learn to ride a motorcycle?  Great!

Riding a motorcycle is an exciting, exhilarating, mind-expanding, energizing . . . yeah, too much.
If you are like many others, you've been thinking about learning to ride for a long time.  The urge to ride comes and goes, but it's always been there hiding in  your heart.
It just 'feels' like you'd love it, right?
But then there are those nay-sayers around you that are against it?
Seems like every time you utter the words, "I want to ride a motorcycle," someone jumps in with a death or injury story of their friend or uncle?  Oh, so dangerous.
You are crazy!
Or are you?
If you learn to ride, you will join the more than 25 million Americans who rode a motorcycle in the last 5 years. That's a lot of people having a great life on two wheels.  Lots of crazy people?
Maybe.
Riding is amazing.  For me, it's been all I ever hoped for and more.  It's probably all you hope it will be.  Motorcycling is an exhilarating sport that can last a lifetime.
But let's not overlook the fact that this is a dangerous hobby (career too).
Be Afraid?
Some of the most "sobering" data I have seen comes from oft-quoted reports by the U.S. National Highway Traffice Safety Administration (NHTSA).  Here are some interesting conclusions from some of the NHTSA's studies on motorcycle crashes (leaving out the alcohol related data).
In one older, but cornerstone study, "Motorcycle Accident Cause Factors and Identification of Countermeasures" the investigators found that of ~4,500 crashes studied:
In the single vehicle accidents, motorcycle rider error was present as the
accident precipitating factor in about two-thirds of the cases
Weather is not a factor in 98% of motorcycle accidents
The motorcycle riders involved in accidents are essentially without
training; 92% were self-taught or learned from family or friends.
Motorcycle rider training experience reduces accident involvement and
is related to reduced injuries in the event of accidents.
Motorcycle riders in these accidents showed significant collision avoidance problems
Motorcycle riders in these accidents were significantly without motorcycle
license, without any license, or with license revoked.
Voluntary safety helmet use by those accident-involved motorcycle riders was
lowest for untrained, uneducated, young motorcycle riders on hot days
and short trips.
Less than 10% of the motorcycle riders involved in these accidents had insurance of any kind to provide medical care or replace property.
Look at the impact of education, good education, and skill.  92% of accidents where
rider was self-taught or learned from Uncle Joe!
The NHTSA also notes that on average, now closer to us in 2004, 25 percent of motorcycle
operators killed in traffic crashes are not licensed or are improperly licensed to operate a motorcycle.  If you are under 30, that's 40%.
So it's young an unlicensed keeping the average high. What's happening to also cause concern?  Bikes are getting bigger (who would have thought we needed a 1400cc bike for commuting to work?), we are getting older (average rider age increasing) and there are more of us on the road.  Statistics say we should be having more and more crashes and fatalities.
So Get a Real Education
This isn't a fear mongering exercise.  I'm riding and lots of us are.  But I did it this way – classes and practice.
Really, is it worth it to skip on a real education and training when you are going to go out into the crazy world of car drivers on cell-phones, driving and texting teenagers (no offense if you are one reading this, but tell me it's not true . . .), daily office commuters choking down Dunkin' Donut flat breads, pot holes, gravel slicks . . . you get the point.
Ultimately, I think the best advice an experienced rider could give a passionate newbie is to go to a riding class and learn from a real teacher, and so I do it.
Here's my own quote:
There is more to riding than working a clutch and brake.

The point is that learning correct riding techniques and picking good riding habits will put you on a path to a safe, fun and, dare say, amazing 2-wheeled life.
Cheap Insurance
And I think you'll be surprised at how cheap good lessons can be and what you will actually learn.  And how much would you pay to reduce your risk of a crash by 20, or 40 or 92%?
The most well-known of the schools in the U.S. are associated, in some way, with the Motorcycle Safety Foundation – either directly approved or with approved instructors.  And, through the research we have done, many other countries have similar organizations that coordinate standards for education.
Each U.S. state has MSF-approved motorcycle driving schools that offer motorcycle riding courses. The Basic Rider Course is for new riders who want to learn how to ride or for someone who has riding experience but doesn't have proper training. The Basic Rider Course2 (or Advanced Rider Course) is for experienced riders who want to enhance their skills. All
courses are approved by the Motorcycle Safety Foundation and by the Department of Motor Vehicles of each state.
When I took an MSF course, it cost a few bucks and it was basically a donation to the MSF in exchange for a "free" t-shirt and a sticker for the back of my helmet.  I wore that sticker proudly.
Good riding instruction doesn't cost a fortune which makes it cheap insurance for your own safety.
So go take a class (our site is full of motorcycle riding schools and courses – U.S. and international) and enjoy a weekend with other excited new riders.
Ride safe.
Matt
---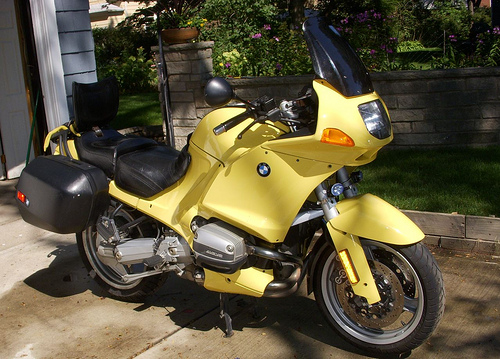 Matt Castro is a rider and blogger specializing in motorcycle riding education – connecting motorcycle riding students with riding schools over at MotorcycleDrivingSchoolCafe.com.
Related posts: